"Crying in Miami" by Starletta 
---
Listen HERE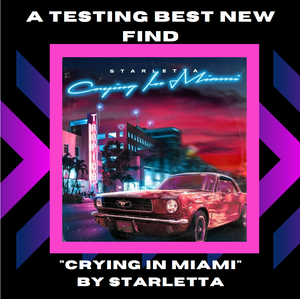 One word:  
finifugal - hating endings; of someone who tries to avoid or prolong the final moments of a story, relationship or other journey. 
Two favorite moments:  
1).The guitar solo at 2:56. 
2).The melody of the chorus is absolutely infectious and perfect for dancing. 
Three Thoughts:  
1). I first heard this song as a clip on Tik Tok and am so glad the original is out!  
2). Favorite lyric of the song:  
"baby, these neon dreams have got me crazy"  
 3). I love all the visual elements of sunsets etc in the lyrics bringing Miami to life and making the song really cohesive.