"Pink Noise" by Devan   
---
Listen HERE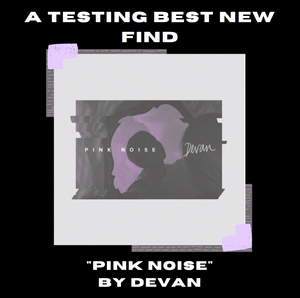 One word:    
aspectabund - letting or being able to let expressive emotion show easily through one's face and eyes 
Two favorite moments:    
1). Almost feat Cory Harper (Track 1) 
2). Conclusions (Track 6)
Three Thoughts:    
1). This is Devan's first solo project and it is an honest and spectacular debut. 
2). If you're looking to reflect/cry listen to "Coclusions" (those runs are breathtaking) and if you're looking for a dreamy banger listen to "make up your mind"
3). A few favorite lyrics from the EP
"why is happy ever after always at the end" (make up your mind)
"I wonder if you should be spending your time with some upbeat girl who works a 9 to 5" (conclusions)
"there's some things I can not help / I'll be there with one foot out" (almost)
"ticking all the boxes like a time bomb / and I'm still checking numbers on my last song" (we're all gonna die anyways)