THE CAUSE BY TOMMY LEFROY 
---
Listen HERE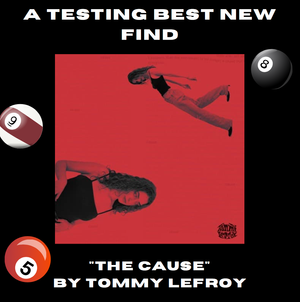 One word:      
catharsis - the process of releasing, and thereby providing relief from, strong or repressed emotions.  
Two favorite moments:      
1). The harmonies introduced in the second verse are incredibly stunning.    
2). The sound of the pool ball in the bridge/breakdown is perfect for a song written "about dating men who've mansplained subjects we literally have degrees in." It sounds like some sort of lounge or bar where all this might be going down, providing nice placement for the song.   
Three Thoughts:      
1). IF YOU LIKE PHOEBE BRIDGERS YOU WILL BE OBSESSED   
2). We are not exaggerating when we say we've listened to this song at least 15 times since discovering it yesterday. One of the best new songs we've heard in a while.
3). Favorite lyric: "And the things that people glorify are fucked up: free love, free drugs, Charlie and the Hollywood Five"